Jewellery Workshops for Community Groups
Bead Vault has been offering jewellery making workshops in Sydney since 2002 to help you celebrate your community event.
We offer affordable, fun and easy jewellery making workshops for your carers, disability or faith group, Culturally and Lingustically Diverse or seniors and for such events as PRIDE Month, National Youth Week, Mental Health Week, International Women's Day, Arts Festival or Mother's Day and more.
We value:
Connection through creativity
The use of sustainable materials
Agency for all our clients
We provide all ages the opportunity for:
Imagination
Expression
Freedom
Mindfulness
Creative play
JEWELLERY WORKSHOP DETAILS
Bead Vault will supply the following:

jewellery tools
jewellery kit for each participant
instruction sheets for each participant

Equipment Required:

trestle tables (with table cloth preferably) and chairs for between 6 -10 people/table
a well lit room

Optional:

PA system with hand held microphone (for larger groups)
lap top/DVD player and projector (if you would like a jewellery making DVD to be shown)

Venue Options:

host an event at your nominated venue
book your event at Rozelle or Summer Hill

Travel Charge:

(only for your nominated venue)

Is dependent on where the event is held from the Sydney CBD.

We can travel to the Central Coast, Blue Mountains and Wollongong.
Terms & Conditions
It is always our goal to start the event with all participants present. We are happy to delay the event by up to 15 minutes. If however in the event a participant/s are late we will delay proceeding no more than 15 minutes later than scheduled.
In the event a confirmed participant is unable to attend at the last minute we are happy to give you a jewellery kit for them. Unfortunately, no refunds are available after payment is made.
We have a minimum guest age of 7 years due to the small beads we use which could be a choking hazard.
Camera shy? We may take photos and/or video at your workshop to use in our marketing materials including social media. If, you do not wish to have your photo taken or appear in a video please let us know.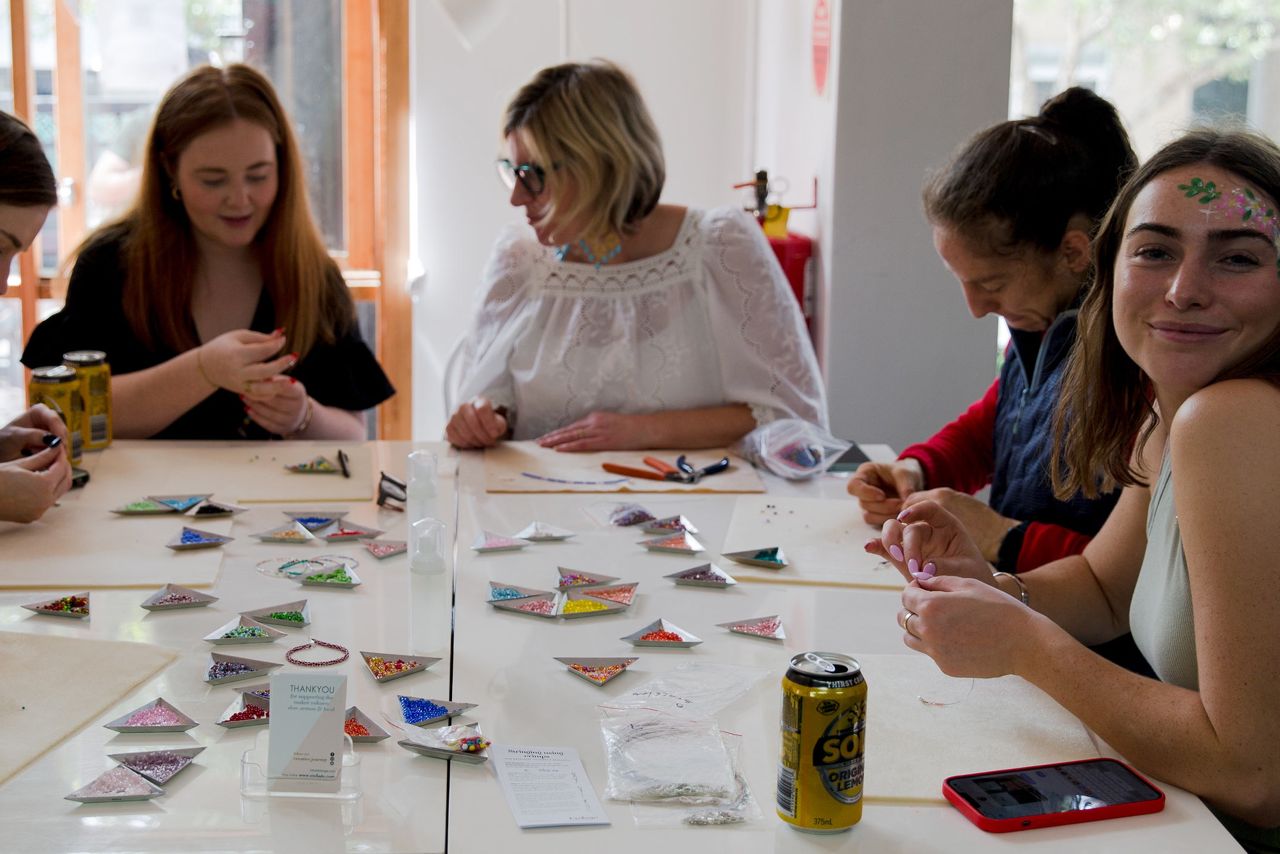 HAPPY CLIENTS
Flourish Australia
The Bravery
Stellar Experiences
St Ives Shopping Centre
Cerebral Palsy Alliance
Gymea TAFE
Settlement Services International
Class Bento
Canterbury Youth Centre
Anglican Church (St Ives, Caringbah, Newtown,
Summer Hill, Bowral)
Baptist Church (Mortdale)
OUR TEACHING PHILOSOPHY
Christine Smalley Founder and Creative Director of Etelage (est
2002), shares her passion for artisan traditions and vintage design. Drawing inspiration from 1920s deco style, 1960s jet set glamour and
1970s boho chic governs her artistic expression. She observes that
generally as a society we are becoming more mindful about our choices: conscious of choosing products which are made using artisan traditions and not mass produced, and seeking quality over quantity. So it is with that philosophy all Etelage tutors shares her skills and knowledge of jewellery design to encourage all students to awaken their creative soul and seek beauty, slow, artisan and local.
All Etelage tutors have a WWCC "working with children check" and they are updated every 5 years.